Fire protection mask ultrasonic cleaning machine is specially designed for fire protection equipment cleaning and cleaning equipment. Fire protection mask ultrasonic cleaning machine is a universal fast and environmentally friendly ultrasonic cleaning machine cleaning equipment.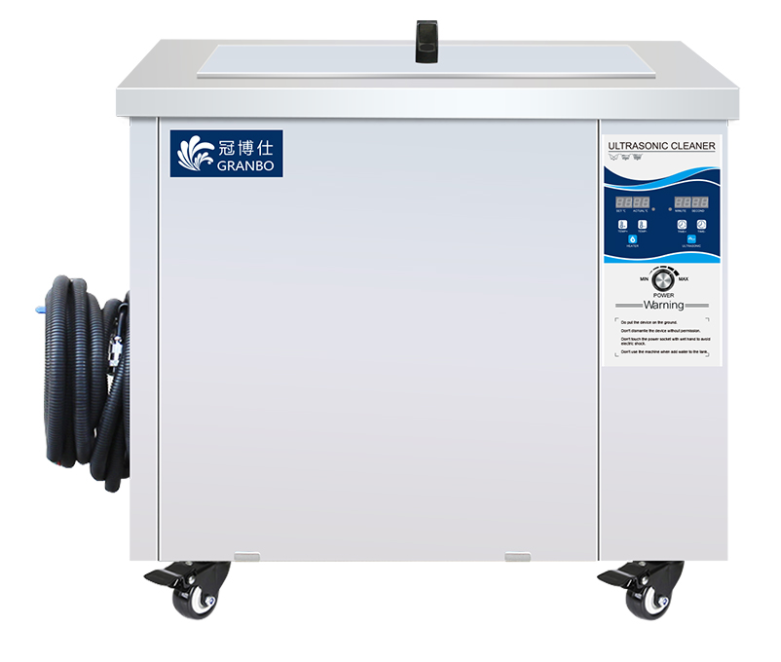 Fire mask ultrasonic cleaning machine product introduction.
---
Fire mask ultrasonic cleaning machine is designed for fire equipment, gas masks, breathing masks and other special cleaning equipment, the whole machine uses a frame structure to ensure that the internal and external load-bearing does not deform. The cleaning tank is made of SUS304 stainless steel, the external is square steel frame door plate snap articulation, dirt-resistant anti-fingerprint stainless steel 1.0 thickness;.
Constant temperature adjustment system can adjust the temperature and time control. The bottom has a special load-bearing universal wheel, easy to move the equipment.
The fire mask ultrasonic cleaning machine parameters.
---
Model: fire mask ultrasonic cleaning machine
Ultrasonic power: 0-1200W (adjustable)
Ultrasonic frequency: 28/40KHZ (default 40KHz)
Heating power: 3000W
Cleaning capacity: 88L
Time adjustable: can be normally open (1-99 minutes adjustable);
Temperature adjustable: room temperature ~ 80 ° adjustable;
Digital touch control: touch button operation, digital display time and temperature;
Inner slot size: 550*400*400mm (can be customized)
Overall dimensions: 690 * 540 * 750mm (can be customized)
Use of power: AC110V-120V/60Hz | AC200V-240V/50Hz
Shell material: 201 shell, square steel frame door plate snap articulation, dirt-resistant anti-fingerprint stainless steel 1.0 thickness;
Inner material: 2.0 argon welding inner liner, SUS304 material, 2.0 thickness more durable;
Stainless steel basket: SUS304 stainless steel material, mesh 10MM, steel bar reinforced type;
Machine power cord: industrial thickened cable, safe and practical;
High-quality casters: the machine uses movable casters to help stop the design, easy to move the machine and the machine to help stop;
Generator power cord: using industrial grade power cord, 3-pin grounding plug, anti-static design;
Independent research and development drive: the use of independent research and development drive board, imported electrical components stable output
Industrial transducer: the use of industrial shock head, strong effect, can work 24 hours;
All-round heat dissipation: machine with cooling fan + multi-hole bit heat dissipation.
Third, the scope of application of the fire mask ultrasonic cleaning machine.
Gas masks, fire masks, fire equipment, medical equipment, a variety of hardware machinery, watch parts, small and medium-sized bearings, electronic parts and glassware, etc..
Granbo is a high-tech enterprise focusing on ultrasound technology research and development, innovation, production, sales and technical services as a whole. The company is helmed by veteran experts who have been cultivating the field of ultrasound application for more than 10 years in the Chinese Academy of Sciences and always adhere to the market-oriented, integrity-based, quality first business philosophy.
After years of development, the company has built "Granbo" has become a well-known brand in the industry, and has been unanimously recognized and supported by many consumers and customers, and is sold in domestic, European and American markets, and exported to more than 100 countries and regions. The company firmly take the route of "quality and innovation", in line with the purpose of "enhance the competitive advantage, create performance", control the supply of materials, standardized production line, each product into the warehouse and before shipment are subject to strict testing, we strive to We strive to make every product in the hands of users will be high-quality products.
With high quality products, advanced technology, and perfect pre-sales, sales and after-sales services, Kuanbo provides the industry and customers with various modes of business cooperation such as agency distribution, brand agency, technical services, etc., in order to mutually benefit and win business opportunities, Kuanbo is looking forward to creating brilliance with you!
At present, our products are widely used in various industries such as eyeglasses, watches, jewelry, medical equipment, hardware parts, automotive, chemical, shipping, aviation and various repair industries cleaning products and appliances, electronic appliances, optical equipment, etc.
Granbo customer service will be happy to serve you, to provide you with satisfactory cleaning equipment!